Why Choose an Aisle Master Articulated Forklift
With the ability to operate in very narrow aisles, VNA, in the warehouse – as narrow as 1.6m – the Aisle-Master articulated forklift increases and maximises storage capacity. What's more, by using the one truck, users can increase productivity and eliminate time-consuming double handling and speed up "truck to rack" operations.
SPECIAL FEATURES
Quick and easy battery removal
AC Traction Motor (19.5kw)
Choice of 620/775/930 amp-hour capacity batteries
Ergonomically designed cab
Reduced Energy Consumption
5 Year Warranty
Aisle Master Puts Warehouse Performance at the Heart of Your Business
It's simple: the Aisle Master Very Narrow Aisle articulated forklift help you maximise your storage capacity. Its ability to operate in aisles as narrow as 1.6m enables you to reduce your aisle width, and thus add more racking to increase your storage capacity.
Add better visibility plus its ability to operate indoors and out, which removes the need for double handling and this results in a forklift truck that provides safer, faster truck to rack operations.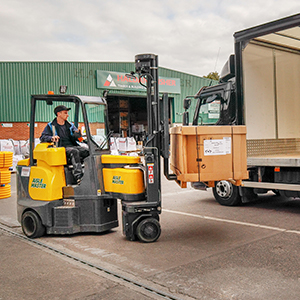 Each truck can operate on any floor surface, both inside and out…
With the ability to operate in very narrow aisles in the warehouse…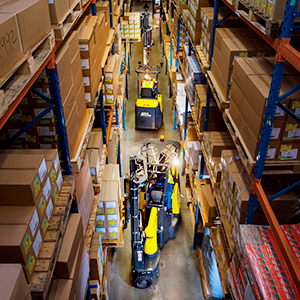 Electric powered models now benefit from AC technology as standard…
Increase your Storage Capacity by up to 50%
When you require additional warehouse space, you have two options ­– extend your existing facility or move premises. With an Aisle Master articulated forklift, you have a third option. By optimising your racking layout and reducing aisle widths down to as little as 1.6m, you can dramatically increase your storage capacity within your existing facility.
Built to withstand heavy duty use inside and out with superior ergonomics & visibility
WAREHOUSE DESIGN & PLANNING
Aisle Master provides a complete warehouse planning service including racking layout proposals and storage density calculations. Find out how this free of charge service can increase the capacity potential of your facility.
The service includes layout proposals and storage density calculations which incorporate a site inspection and layout diagrams free of charge.
Congratulations! You're about to experience the Combilift advantage. Combilift consultants work to identify the precise features needed to enhance your operations.
Experienced designers will produce the specification for your unique Combilift. Your Combilift design is brought to life on our state-of-the-art production lines.
Shipments leave the Combilift factory every week destined for countries all over the world.
Lifetime access to our after-sales support team comes as standard.
When I first started investigating possible forklifts I initially thought of VNA man-up or reach trucks, but Greg Vooght of Westexe, our materials handling consultant, recommended the Aisle Master as he calculated that it could increase capacity by a third. I trust his advice and after visiting two local Aisle Master users I was immediately won over by its performance and versatility.
Tim Wigley
Operations Manager, Luscombe Drinks
A further benefit is the design and finish of the Aisle Master – it not only performs well but it really looks good. As a supplier of high end products – we now have British Retail Consortium accreditation - a professional image is important, and this applies to our equipment too.
Tom Little
Co-Owner, Little & Cull
As pretty much every load is different in size, the hydraulic fork positioner saves the drivers having to repeatedly get in and out of the cab, saving time and effort. In the really busy months, particularly in the summer it's a great advantage and keeps us running smoothly when we have a lot of orders to process and get out to customers.
Mr. Seigwasser
Managing Director, EMS
Having visited the Combilift Plant in February 2020 to review the ongoing design work on the Order Picker, I can confidently say that Combilift's innovative passionate team produce machines to the highest quality. They have been committed to deliver a solution tailored to our Order Picking requirements, which will be an integral part of our expanding operations
Rewi Te Whatu
Director, Sorted Logistics