We all know that a well-optimised and efficient warehouse creates superb stock capacity, speed of handling and staffing efficiency savings. That's not to mention a safer storage facility.
But how to make it happen? And how can you spot issues damaging the bottom-line performance of a warehouse?
Our quick read 'warehouse efficiency 101' overview below is new for 2022 and offers simple ways to assess the unlocked potential of your warehouse PLUS details of free help to make your warehouse deliver the very best possible results.
Let's take a closer look…
Warehouse Efficiency Challenge: 1, Do More With Less
An important question first: who are we?
Well, we've helped warehouse operators across the world to increase their storage capacity (by up to 50%!) through our very narrow aisle vehicles purpose-made to operate in smaller spaces and our renowned complimentary warehouse planning service.
Based in Ireland, we support the owners of over 65,000 units globally to achieve smarter, more cost-effective storage facilities.
The key to bringing this ethos to your warehouse too is very simple: just apply our 'do more with less' principle when reviewing your warehouse facility.
The thinking behind this approach simply involves looking for ways to leverage more storage space plus better human and vehicle efficiency and lower costs from your existing warehouse.
Taking a walk around your warehouse right now, there are some sure signs that an easy win is possible:

• Requirement to store more pallets: Does your business need more storage space?
• External storage costs: Are you storing stock elsewhere? What is this costing in terms of building rental, transportation costs and cost per pallet overall?

• Forklifts operating in wide aisles: Could narrow aisles deliver better space efficiency?

• End of term lease: Is an ideal time to move to smarter warehouse vehicle technology around the corner?

• Products on ground: Where and when is this occurring?
• Reach trucks in use: Could a better vehicle work more efficiently?

• Stock damage: Could a warehouse review prevent these losses?

Starting with a simple visual tour and asking the right questions can be an ideal first step to a vastly more efficient warehouse.
Warehouse Efficiency Challenge: 2, Let's Talk Energy Costs
For a number of countries, for example the UK, the volatility of energy cost makes this factor an immediately pressing issue.
But for every warehouse owner or operator reducing energy costs, specifically heating, cooling, lighting and vehicle fuel, should be under constant review.
Taking a closer look at your warehouse vehicles and their fuel cost, there are two essential ways to look for improvements:

• Forklift fuel cost: Consider whether a switch to electric powered forklift could deliver reduced energy costs. Plus, the latest performance benefits found in an AC vehicle include improved acceleration with low maintenance costs.

• Forklift efficiency running time: A smarter and well optimized warehouse with, for example, a single forklift capable of rack to truck performance will deliver reduced forklift running time through faster, more efficient stock handling

Of course, addressing these factors will mean a reduced carbon footprint, creating ethical and Corporate Social Responsibility advantages for a business.
Ultimately: using more fuel-efficient vehicles and spending less time operating the vehicles will deliver reduced energy costs. To find out more simply ask an Aisle Master specialist. We're here to help.
Warehouse Efficiency Challenge: 3, Warehouse Sustainability
Assessing all the available space in your warehouse, as well as using the space well, is key to both warehouse sustainability and a sustainable supply chain as these actions helps produce a high-performance, efficient storage unit.
Ultimately, many businesses will reach a stage where more storage is needed and discover that finding additional warehouse space isn't an easy task. Using the UK as an example, experts are warning that available warehouse space could run out within a year.
That's why leveraging the best possible results from the existing warehouse offers the most cost-effective solution going forward as more efficient space, more efficient vehicles and more efficient handling of stock will deliver substantial benefits against the existing cost of the warehouse.
Narrower aisles, higher pallet racks, better layout and more fuel efficient vehicles are the headline ways to achieve this kind of optimized performance.
Recommended: Aisle Master's renowned warehouse planning service delivers in-depth warehouse layout proposals including CAD visuals at no charge.
Warehouse Efficiency Challenge: 4, Increased Cube Storage
As we've shown, making better use of the warehouse unit you already operate is an obvious 'win' in terms of sustainability and costs.
An essential element is, of course, storage cube (AKA available storage space) size.
We're passionate believers in adjusting racking layout to allow more stock to be stored, better vehicle access and better storage density.
This can be achieved through narrower aisles, taller racking and using more manoeuvrable forklift trucks.
The advantages? To take one example, a higher capacity area for raw materials and finished product storage – both costs to a business – using less space means more space for profit-generating production without moving to bigger premises.
In short: to increase your warehouse storage cube a warehouse unit can, and should, be reviewed to check for greater storage opportunities through better racking design and layout along with the use of vehicles designed to access as much of the space as possible.
Warehouse Efficiency Challenge: 5, Follow the Pallet
Another way to unlock warehouse efficiency, and clearly see opportunities for improvement, involves simply following a pallet in your facility.
Ask yourself:
• Handling time (internal): How far did the pallet have to travel to the warehouse entry?
• Handling time (external): How far did the pallet have to travel to delivery truck?

Then simply consider whether a better location for either of these elements could deliver better handling time. The result of an improvement will deliver increased productivity as employees will travel reduced distances.

After all, when stock handling is repeated hundreds or thousands of times per year every second and minute spent moving a pallet adds up.
Warehouse Efficiency Challenge: 6, Material Flow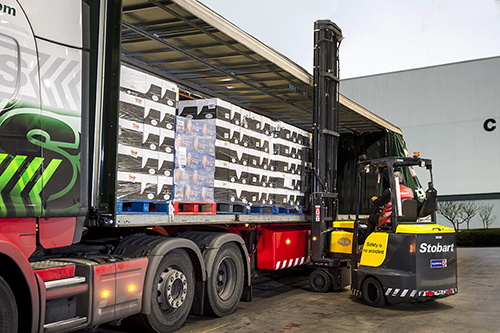 While understanding the process, specifically the individual steps, involved in the flow of materials in and out of your warehouse is essential, a focus on the relationship between the location of materials and picking is highly recommended.
That's because the picking element of your process is likely to account for a majority of handling time and working time involved in delivering this.

Some possible mitigations include:

• Location: Placing stock needed more often in the closest locations, both in terms of distance along an aisle from the loading aisle and height of the location within the rack, means a – say – working hour can see the highest possible volume of stock handled.
• Rotation groupings: High demand, medium demand, and low demand items can be grouped as such and placed accordingly.
Selecting the quickest and most efficient forklift vehicle can, of course, take the maximum advantage of optimized material flow by matching the optimization with the fastest possible handling of the material onwards to the loading area or even into the truck itself.
Explore the Aisle Master Order Picker, Pedestrian Range, Cold Store Aisle Master, LPG AND AC models here.
Warehouse Efficiency Challenge: 7, Building Columns
An often-overlooked area for improvement in warehouse units? Racking around building columns.

Our warehouse planning specialists often find that a better option to allow the best possible rack location for material flow and forklift access can be found or that a different vehicle could be used for improved flexibility around the column.

This all adds up to more storage space and more efficient working with that storage.

Browsing the range of Aisle Master vehicles available – from Very Narrow Aisle (VNA) forklifts to pedestrian and order picking units will also help to visualise the options now available to work with, not against, immovable warehouse features in a more efficient way.
Warehouse Efficiency Challenge: 8, Selectivity vs Density
It can be easy to assume that higher density, ie storage capacity within racking, and higher selectivity, ie the fastest possible access to the stock item needed, are both desirable.

But in reality the right balance of priorities for your warehouse unit is the ideal solution.

Where large quantities of the same item are held a higher density can be sought but storage facilities where rapid access and dispatch of a large number of items are a regular occurrence should prioritize selectivity.
The latter, and more common, higher selectivity option explains why Selective Pallet Racking – featuring a single pallet depth with a maximum of two racks back to back – is a frequently used option.
Warehouse Efficiency Challenge: 9, Order Picking
Order picking is, of course, a vital section of the warehouse process for your business as even a small change can ripple into a big improvement thanks to the cost of this activity and the huge scale of order picking bearing in mind each action is repeated a vast number of times across each week, month and year.
Methods such as simple individual picking, picking across multiple areas of the warehouse at once or assigning a warehouse employee to each section should all be explored. For example, introducing one of the forms of bulk picking in a properly optimized warehouse means better time efficiency vs inventory being collected individually.
For vehicle efficiency improvements our own clients are already feeding back to us that taking a closer look at the Aisle Master Order Picker is highly recommended for warehouse owners or operators.

The new model is a stand-on electric powered vehicle designed to combine the advantages of a narrow aisle articulated forklift and an order picker for superb versatility.

Its specification includes:

• Quick and easy battery removal
• AC Traction motor (19.5kw)
• Choice of 620/ 775/ 930 amp-hour capacity batteries
• Ergonomically designed operator's cab
• Reduced energy consumption
For full Aisle Master Order Picker specification and details simply click here.
Questions about warehouse efficiency? Just ask.
Warehouse Efficiency Challenge: 10, Warehouse Planning
We've referred to professional planning more than once here as, based on working on countless warehouse units worldwide, we simply cannot recommend this step enough.
Our own planning service is offered at no charge and is designed to find and show how increased storage can be found in your warehouse without a move to new premises. An additional benefit? Better use of layout and forklift capacity can mean faster handling time thanks to quicker truck to rack times.

Aisle Master's warehouse planning review includes customised layout diagrams at no charge to help visualise and evidence the results the right combination of very narrow aisle truck and racking could unlock for your warehouse.
Warehouse Efficiency: Your Next Steps
Aside from Aisle Master's warehouse planning service, a range of case studies showing superbly successful warehouse optimization projects is available here.
As we've said, understanding the range of modern, efficient vehicles now available for fast, flexible pallet handling and order picking is also a recommended next step. Find out more about Aisle Master very narrow aisle forklifts and vehicles – including benefits, spec and options – here.
Every Aisle Master vehicle is supported by:

• Warrantied reassurance: The backing of a 5-year or 5,000 hours parts warranty is standard, giving you peace of mind and low cost of ownership.
• Superb parts access: Major parts distribution warehouses are located strategically, often delivering parts anywhere in Europe and the US within 24 hours. However, common replacement parts are also available from local suppliers.
• Technical support where you need it: A worldwide dealer network means factory-trained Aisle Master engineers can be found close to hand across the globe. The result? Reduced downtime for you.
The right combination of warehouse layout, processes and vehicles can deliver substantial efficiency savings at a time when warehouse costs and availability of additional storage space are under more pressure than ever.
It's never too early to contact us to discuss the efficiency of your warehouse unit. Think of us as professional partner 'in your corner' to help deliver outstanding warehouse efficiency. To find out more, ask us how.
Questions? Simply ask one of our specialists. We're here to help.
See also: Very Narrow Aisle Forklifts 101, Avoiding Forklift Downtime